Cupola Repair, Painting, Roofing and Restoration Services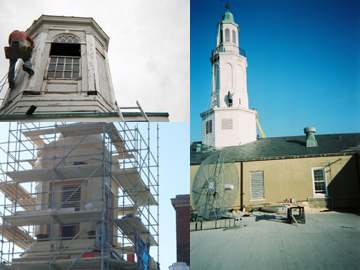 "Our cupola projects are performed just as any of our specialized projects, with dedication, experience, knowledge and honesty. We use the most "proven" roofing, painting and restoration materials, techniques and methods available. We take each unique project above and beyond your satisfaction". Some of our certified and professional church steeple services include;
Pre-Bid Inspections

Pre-Bid Consultations

Project Design & Cost Estimates

Project Scheduling & Management

Emergency Repairs

Dome Leak Repair

Painting; applying high quality, interior and exterior acrylics, oils,
metallic finishes (including thorough surface prepartion, surface
cleaning & proper etching, priming & sealing, repair minor defects
using reinforced epoxies)

Specialized Coatings & Sealants

Metal Tier Repair & Replacement

Architectural Preservation (including windows, louvers, finals, pinnicals, crosses, millworks, wood columns, etc.)

Gold Leaf & Gillding Services

Copper Cladding Repair & Installation
Know matter what condition or situation your restoration and or repair project involves, CIS Steeplejack has the knowledge, experience and right team to see your project thru., contact us today to recieve a quote and or to speak with a specialist; Toll Free 888.265.0592 or call anytime @ 330.461.6251 - we look forward to helping you!
Fishkill County Courthouse - Fishkill, NY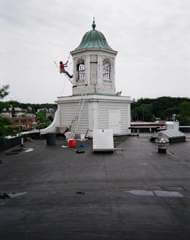 Fishkill County Courthouse called us to repair and restore the historical county court house cupola. We removed and replaced window sash and multiple panes of glass. There was deteriorated wood tirim we duplicated and replaced with new to match existing. Thouroughly prepping all surfaces by removing loose and flaking paint. Finally we applied a high quality exterior coatings to bring this cupola back to its original luster. To go a little further, we installed LED lighting along with electronic control center which controls time and multiple display funtions enoabling you to control different holdiay light displays.
Brentwood Elementary School - Washington DC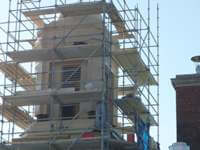 We were contacted by Grunley construction, one of washingtons well known restoration contractors to give them a hand restoring the brentwood elementary school cupola. Due to the handwork involved to bring this cupola up to specs, scaffolding was used to access. Much of the wood trim molding and decorative wood onlay was removed and replace. All decorative wood onaly was duplicated on-site using molding techniques to create a replicating polymer onlay which will last a lifetime. All wood columns were repaired and replaced as needed. All surfaces were prepared by means of hand scraping, mechanical ethcing, primed, caulked and painted using the very best of materials. All teir metal and drip edge was removed, fabricated and replaced.
Paul Public Charter School - Washington DC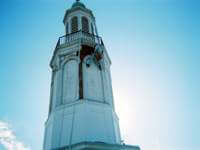 Paul Public Charter School called us as they were having trouble with the cupola leaking as well as noticing wood trim and crown mold buckling and or missing. In order for us to repair this cupola, we used boson chairs and rigging. Much of the cupola interior (in the bellfry) was filled with bird droppings which was removed prior to setup. All damaged trim work and crown molding was removed and properly replaced. Al surfaces including the metal hand rail was thouroughly prepped and repaired prior to applying quality coatings as needed. We also surfaced prepped and painted three smaller cupolas scattered across the roofline.
As a matter of fact..
Our steeplejack company has provided steeple restoration, roofing, painting nationwide for over 25 years. We are fully insured and bonded for all states including but not limited too; alabama al, alaska ak, arizona az, arkansas ar, colorado co, connecticut ct, delaware de, florida fl, georgia ga, idaho id, illinois il, indiana in, iowa ia, kansas ks, kentucky ky, louisiana la, maryland md, massachusetts ma, michigan mi, minnesota mn, mississippi ms, missouri mo, new hampshire nh, new jersey nj, new mexico nm, new york ny, north carolina nc, north dakota nd, ohio oh, oklahoma oK, pennsylvania pa, rhode island ri, south carolina sc, south dakota sd, tennessee tn, texas tx, virginia va, washington wa, west virginia wv, wisconsin wi, birmingham, montgomery, mobile, little rock, fort smith, denver, bridgeport, new haven, wilmington, jacksonville, miami, tampa, st. petersburg, orlando, tallahassee, atlanta, augusta, columbus, boise, chicago, rockford, springfield, indianapolis, fort wayne, evansville, south Bend, des moines, cedar rapids, davenport, kansas city, louisville, lexington, bowling green, new orleans, baton rouge, shreveport, baltimore, columbia, boston, detroit, grand rapids, warren, ann arbor, lansing, minneapolis, saint paul, jackson, gulfport, kansas city, saint louis, manchester, newark, jersey city, paterson, albuquerque, roswell, buffalo, rochester, syracuse, albany, charlotte, raleigh, greensboro, fargo, bismarck, columbus, cleveland, cincinnati, toledo, akron, oklahoma city, philadelphia, pittsburgh, allentown, erie, reading, harrisburg, providence, warwick, columbia, charleston, north charleston, mount Pleasant, Rock Hill, memphis, nashville, knoxville, chattanooga, clarksville, houston, san antonio, dallas, fort worth, virginia, virginia beach, norfolk, newport news, seattle, spokane, charleston, wheeling, milwaukee, madison, green bay