Quality Steeple Repair and Restoration Services.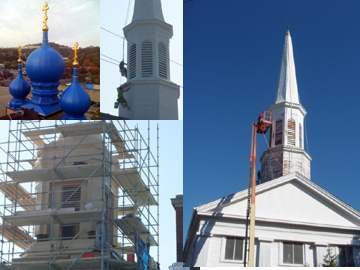 Our church steeple repair and restoration projects are performed with dedication, experience, knowledge and honesty..
We use the very best and most "proven" roofing, painting and restoration materials, techniques and methods available. We take each unique project above and beyond your satisfaction". Some of our certified and professional church steeple services include;
Pre-Bid Inspections

Project Consultations

Detailed Cost Estimates

Project Scheduling and Management

Roofing and Church Roofs including - slate, shake, copper, asphalt shingle roof applications and more.

Exterior Painting Applications - dedicated to preserving the original beauty of your steeple, providing a lustering, lifetime protective coating system.

Specialized Protective Coatings including - metallics, clear uv protection, gold and metal flake and more.

Building Sealants including - uranthanes, silicones, acrylics and more.

Tier Metal replacement as well as custom fabrication and installations

Gutter and Downspout repairs and installation including - box gutters and most other common types of guttering systems.

Architectural Repair and Fabrication including - windows, louvers, finials, pinnacles, crosses, weathervane, stamp metal, millworks, wood columns, etc.

Structural Reinforcement

Masonry including - tuckpointing, brick replacement, cleaning, sealing and more.

Gold Leaf & Gillding Services

Copper Cladding and other Metal Cladding Repair & Installation

Emergency Services
Know matter what condition or situation your specific project involves, CIS Steeplejack has the knowledge, experience and the right team to see your project thru, feel free to contact us today to recieve a quote and or to speak with a specialist; Toll Free 888.265.0592 or call anytime @ 330.461.6251 - we look forward to helping you!
First Presbyterian - Huron, Ohio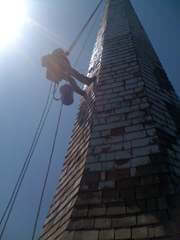 First Presbyterian, 225 Williams St Huron, Ohio 44839 - March 2011. We were contacted by First Presbyterian in Huron, Ohio to repair a leaking historical steeple. Besides having a leak issue, in the past they had a contractor install vinyl siding to most of the walls and base to help prevent some of the maintenance of painting. Unfortunately but most common, the vinyl siding was retaining moisture and therefore the walls behind the siding was starting to deteriorate. To fix this issue it was suggested to put back the steeple to its original maintenance friendly condition. So we rigged the spire with block and tackle, removed all the vinyl siding, replace all the wood trim that was disposed of when the siding was installed, repaired holes cut into much of the exterior surfaces when the vinyl siding was installed, repaired and replaced wooden louver slats, removed and replaced some wooden shingles, thoroughly prepped the exterior surface by hand scrapping, wire brushing as well as mechanically etched the surfaces for sealant and coatings. Finally we prime coated all surfaces, caulked and sealed all joint, seams and overlaps and applied two finish coats of high quality paint.
Forest Hills Baptist - Raleigh, NC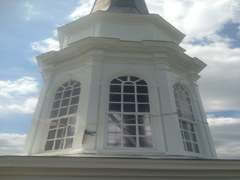 Forest Hills Baptist, 201 Dixie TR Raleigh, NC 27607. A complete steeple restoration of the one hundred seventy (170ft) steeple was what she was calling for, including window repair, wood trim repair, copper cladding repair, architectural repair, painting and a little of this and a little of that. We repaired the finial and weather vane and made sure in the end was weather tight, tightened down and pointing in the right direction. Some of the lead coated copper cladding on the spire had holes in miscellaneous areas from projectiles and or previous attempts to repair or maintenance. Exterior Columns and window sills we repaired using reinforced epoxies and or replaced with new to match existing. All windows including the sash were repaired, restored, re-glazed and painted (interior / exterior), all tier metal was prepped, repaired, cleaned, etched and coated using a specialized elastomeric RPM "cool" roof coating. Deteriorated wood trim and siding was removed, replaced and all surfaces to be painted was thoroughly prepped, hand scraped to remove all loose and flaking paint, mechanically etched, primed and painted using (2) coats of high quality exterior.
First Congregational - Hudson, Ohio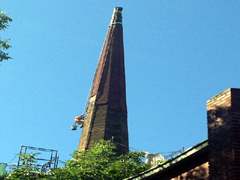 First Congregational, 47 Aurora St. Hudson, OH 44236. When contacted by First Congregational (built in 1802), their spire had been having ongoing leak issues for some time. After removing and replacing the original wood shingles with a quality asphalt shingle 25 years ago, the steeple once again was in need of a new roof. To help them save on cost, we utilized minimal scaffolding provided by local mason contractors and rigged the steeple with block and tackle rigging to remove, repair and replace safely. It was suggested to go back to a wooden shingle due to the structural design of the steeple. However, FCC went one step further and decided to go with a modern copper shingle design. This type of application replicates the movement of wood or slate shingles allowing for proper flexability as well as providing superior protection from the elements. We also made a few modifications to the apex of the spire to allow for a new copper finial to be securely installed and attached to the spire. We also re-designed the interior tension rods to accommodate the new copper shingle application and fabricated a new "Copper Clad" access door.
First United Methodist - Douglasville, GA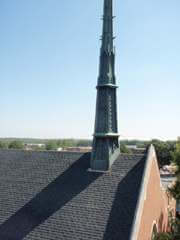 First United Methodist, 6167 Prestley Mill Rd. Douglassville, GA 30134. We were contacted by First United Methodist in Douglassville, GA to repair a leak from a steeple wrapped in architectural copper cladding. The spire was positioned high above the 12/12 sloped roof line and hasn't been touch since she was positioned into place some fifty to sixty years ago. FUMC had contacted many roofers to help pin point and resolve these leak issues but after numerous tries the leak would re-appear. To resolve this particular steeple issue, we had to provide access to the interior by removing some of the copper cladding and wood walls from the base as well as a section midway up the spire. We removed old deteriorated tar from the bottom of the structural metal struts and then resealed them using a non cured butyl rubber. Then we removed the existing shingle roofing and flashing to discover an improper metal flashing system. To complete this project we fabricated and installed a copper metal counter flashing around the base then reinstalled the exterior copper cladding to original condition.
First Presbyterian - Columbus, GA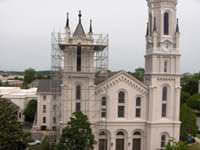 First Presbyterian, 1100 1st Avenue, Columbus, GA 31901. Our emergency services was called upon when First Presbyterian noticed one of the pinnicals on the bell tower was dangeling high above. A this time our services was to remove the damaged pinnical and evaluate the existing conditions for repair. CIS drafted a detailed scope of work to be reviewed and added upon by the trustees. A six week renovation included, removing the exsisting pinnicals, reinforcing each of them structurally, remove existing damaged copper roofing, reinforced a tie down for each of the pinnical mounting points, removed and replaced concrete footer, replaced all wood underlayment and copper roof with copper shingle roofing, removed and replaced the slate roofing, installed copper ridge caps, prepared all surfaces for coatings (including the clock faces on the large tower), primed, caulked and painted as needed. Due to the amount of handwork and extensive needs we utilized scaffold and a manlift to safely, properly and efficiently perform the much needed repairs.

As a matter of fact..

Our steeplejack company has provided, roofing, painting and other types of repairs nationwide for over 25 years. We are fully insured and bonded for all states including but not limited too; ohio oh, alabama al, alaska ak, arizona az, arkansas ar, colorado co, connecticut ct, delaware de, florida fl, georgia ga, idaho id, illinois il, indiana in, iowa ia, kansas ks, kentucky ky, louisiana la, maryland md, massachusetts ma, michigan mi, minnesota mn, mississippi ms, missouri mo, new hampshire nh, new jersey nj, new mexico nm, new york ny, north carolina nc, north dakota nd, ohio oh, oklahoma oK, pennsylvania pa, rhode island ri, south carolina sc, south dakota sd, tennessee tn, texas tx, virginia va, washington wa, west virginia wv, wisconsin wi, birmingham, montgomery, mobile, little rock, fort smith, denver, bridgeport, new haven, wilmington, jacksonville, miami, tampa, st. petersburg, orlando, tallahassee, atlanta, augusta, columbus, boise, chicago, rockford, springfield, indianapolis, fort wayne, evansville, south Bend, des moines, cedar rapids, davenport, kansas city, louisville, lexington, bowling green, new orleans, baton rouge, shreveport, baltimore, columbia, boston, detroit, grand rapids, warren, ann arbor, lansing, minneapolis, saint paul, jackson, gulfport, kansas city, saint louis, manchester, newark, jersey city, paterson, albuquerque, roswell, buffalo, rochester, syracuse, albany, charlotte, raleigh, greensboro, fargo, bismarck, columbus, cleveland, cincinnati, toledo, akron, oklahoma city, philadelphia, pittsburgh, allentown, erie, reading, harrisburg, providence, warwick, columbia, charleston, north charleston, mount Pleasant, Rock Hill, memphis, nashville, knoxville, chattanooga, clarksville, houston, san antonio, dallas, fort worth, virginia, virginia beach, norfolk, newport news, seattle, spokane, charleston, wheeling, milwaukee, madison, green bay